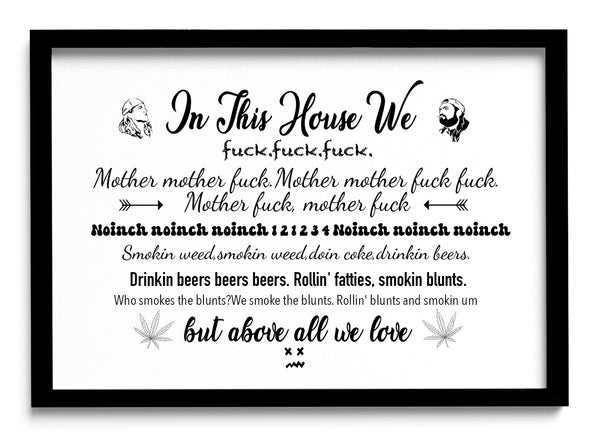 MAKE SURE YOUR GUESTS KNOW WHAT KIND OF HOUSE THEY ARE IN WITH JAY'S RAP WALL MOM ART. WHETHER IT BE A HOUSE WARMING GIFT, A PRESENT FOR NANA, OR SNEAKING IT ON YOUR WALL OUT OF SHERE COMEDY, ITS THE PERFECT NOVELTY FOR HOLIDAY SEASON!
JAY AND SILENT BOB, CLERKS, CLERKS I, CLERKS II, CLERKS III
Fuck. Fuck. Fuck.
Mother mother fuck. Mother mother fuck fuck. Mother fuck mother fuck.
Noinch noinch noinch.
1 2 1 2 3 4
Noinch noinch noinch.
Shmokin' weed, shmokin' weed.                                  (  8.5 in.  x 11 in.  )
Doin' coke, drinkin beers.
Drinkin beers, beers, beers!
Rollin' fatties, smokin blunts.
Who smokes the blunts? We smokes the blunts.
Rollin' blunts and smokin them

15 bucks, little man, put that shit in my hand.
If that money doesn't show then you owe me owe me owe.
My jungle love.
Oh e oh e oh.
I think I wanna know ya know ya ... yeah, what.