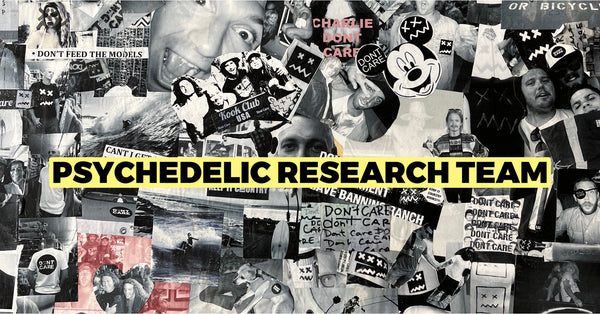 PSYCHEDELIC RESEARCH TEAM
Discover the "Psychedelic Research Team" Collection: Unleash Psychedelics and Humor in Style
Embark on a mind-expanding journey with our "Psychedelic Research Team" collection, where psychedelics and humor collide in a vibrant explosion of fashion. Featuring a range of hats, fisherman hats, shirts, sweatshirts, crewnecks, and sweatpants, this collection is a testament to the adventurous spirit and lightheartedness of psychedelic enthusiasts and the Dont Care Team.
Injecting a healthy dose of humor, our collection embraces the playful side of the psychedelic experience. With witty slogans, whimsical illustrations, and clever twists, our apparel brings laughter and a sense of camaraderie to those who appreciate the transformative power of psychedelics.
Be the life of the party, the guru of good vibes, and the ambassador of laughter with our versatile collection. From festivals to chill hangouts, our hats and clothes will teleport you to a dimension where fashion meets funny, and style becomes an acid trip of awesomeness. Join our "Psychedelic Research Team" and become a walking conversation starter, inviting others to explore the mystical realms and unlock the doors of perception.
Tag #psychedelicresearchteam in our merch on IG to be featured on our page!